«Executive Summary Report- Final Results»
Microgrids comprise Low Voltage distribution systems with distributed energy sources, storage devices and controllable loads, operated connected to the main power network or islanded, in a controlled, coordinated way.
The operation of Microgrids offers distinct advantages to customers and utilities, i.e. improved energy efficiency, minimisation of overall energy consumption, reduced environmental impact, improvement of reliability and resilience, network operational benefits and more cost efficient electricity infrastructure replacement. Research within the FP5 Project MICROGRIDS (ENK5-CT-2002-00610), focused on the operation of a single Microgrid, has successfully investigated appropriate control techniques and demonstrated the feasibility of Microgrids operation through laboratory experiments.

The proposed project extends this work significantly with the following Scientific and Technical Objectives organized in 8 Workpackages:

WPA Design of micro source and load controllers for efficient integration
WPB Development of Alternative Control Strategies (hierarchical vs. distributed)
WPC Alternative MicrogridsDesigns
WPD Technical and Commercial Integration of Multi-Microgrids
WPE Standardization of Technical and Commercial Protocols and Hardware
WPF Field trials on actual Microgrids
WPG Evaluation of the system performance on power system operation
WPH Impact on the Development of Electricity Infrastructures (expansion Planning)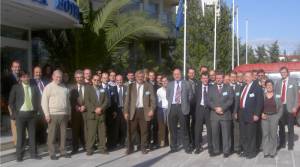 The Consortium comprises major European manufacturers, power utilities and potential Microgrid operators and research teams with complementary, high quality expertise. Participants of the proposal have cooperated effectively in the previous EU Microgrids project acquiring significant know-how and gaining world-wide recognition in this field.